Welcome to the Southside Homewreckers' Page
The Homewreckers are a trio that deliver classic blues and ragtime with a modern edge.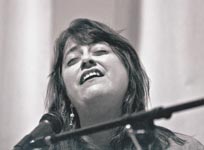 "Dynamic," "expressive," and "soulfully powerful"- that's how national publications describe Sheryl Warner. Add the lyrical harmonica lines of Rick Manson and the propulsive guitar of Gregg Kimball, and you have a powerful trio delivering straight-ahead blues, ragtime, and roots tunes. Read the latest news here and follow the links for bios, performance dates, and music.
Latest News . . .
 The band performs at Sunrise Villa Tuckahoe on August 20.
"

Warner's strong voice is crystal clear in the higher registers and earthy when she dips down to deliver the punch lines of Kid Bailey's lovely 'Rowdy Blues,' trailing off like an outbound train rounding a bend."--

Blues Access
magazine
One of the most expressive and powerful voices in blues today. . . .
When Warner sings Sippie

W
allace's 'Woman Be Wise' or Ida Cox's 'Wild Women Don't Have the Blues,' you are sure she knows what she's singing about."
--Dirty Linen: The Magazine of Folk and World Music