The Homewreckers have been thrilling diverse audiences with powerful performances for more than twenty years.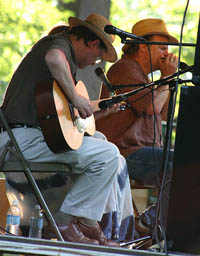 Gregg and Rick at the Tinner Hill Blues Festival
Whether in an intimate coffeehouse setting, on a major festival stage, or at a performance/lecture, the Southside Homewreckers bring just the right mixture of artistry and audience engagement. The band's been featured at major Blues and Folk festivals, respected historical venues such as Colonial Williamsburg, and even performed with symphony orchestras. Gregg's historical expertise allows us to offer a wide range of interpretive programs on the history of the Blues. To get more details on our performance experience and offerings, check out our press kit!
Video Sample from the Richmond Folk Festival